In the latest report from DNV, the international risk management and certification company based in Norway, a significant decrease in the cost of solar energy is predicted, reaching historically low levels by mid-century.
According to their "Energy Transition Outlook 2023," a 211-page document analyzing global and regional trends in renewable energy through the mid-century, DNV forecasts that by 2050, the Levelized Cost of Energy (LCOE) for photovoltaic energy will plummet to $0.021 per kilowatt-hour (kWh). This astounding finding suggests that LCOE for photovoltaic could approach $0.020/kWh as early as 2025.
This cost reduction is attributed to a decrease in unit investment costs, which currently stand at $870 per kilowatt ($/kW). According to the report, as the installation capacity of solar photovoltaic systems continues to grow, these costs are expected to decrease, falling below $700/kW shortly after 2030 and further decreasing to $560/kW by 2050.
The report also highlights an anticipated slowdown in the solar energy learning rate, dropping from 26% to 17% by 2050. This phenomenon is attributed to cost component adaptation as the solar industry matures. By mid-century, photovoltaic energy is expected to remain the most cost-effective energy source globally, generating an impressive 8.8 terawatts (TW) of electricity, which is 13 times more than in 2022. Furthermore, the report underscores that as solar energy expands, energy storage will also experience significant growth, with "most of the solar capacity added worldwide integrating storage."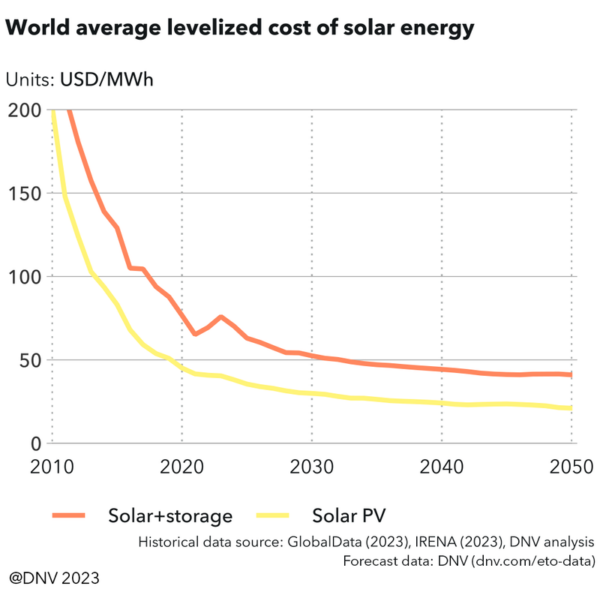 Regarding installed generation capacity, the report projects that solar energy will represent 54% by 2050, although it will only constitute 39% of the global grid's electricity generation. Despite this relatively lower efficiency in terms of generation, the rapid proliferation of solar energy is mainly due to decreasing costs.
DNV also anticipates that China and North America will lead global photovoltaic installations in the next two and a half decades, although there is an expected "slight decline" in 2050 due to installation saturation. On the other hand, India, the Middle East, and North Africa are on track to triple their solar energy shares, increasing from 6% and 3% in 2022 to 14% and 12% by mid-century, respectively.
The report predicts that photovoltaic will surpass fossil fuel-based energy generation in Europe by 2030, thanks to a "world-leading decarbonization program and photovoltaic support policy" in the region. However, this "overwhelming rise of solar energy" could impact other renewable energy generators and the nuclear sector, resulting in a reduction of their shares.
In summary, the report suggests that non-fossil energy sources, including photovoltaic, wind, hydroelectric, bioenergy, and nuclear energy, will account for 52% of the primary energy mix by 2050, marking a significant shift from DNV's previous predictions for 2022.