Risen Energy has achieved certification for its 700W series of panels, a world first and a great success for the Chinese company, which has become the first company in the world to achieve approval and certification by TÜV SÜD for a high efficiency ultra-thin wafer product, its 210mm 700W heterojunction Hyper-ion series.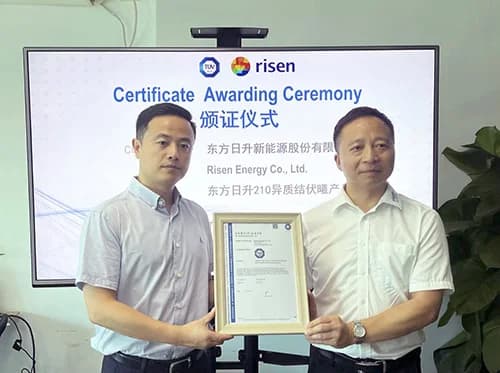 With an output of up to 700 W, cell efficiency of over 25.5% and panel efficiency of 22.53%, Risen Energy claims that the Hyper-ion promises to reduce the levelised cost of electricity (LCOE) used in solar projects by 10% compared to PERC solar panels.
DPV Energy, official distributors
DPV Energy
is a company specialising in the supply of Tier 1 solar panels
, , providing our customers with renowned brands in the sector that guarantee maximum quality in supply, as well as being the
official distributors of the Risen Energy solar panel brand
. At DPV Energy, we are committed to the Risen Energy brand because we understand that it is high quality and that
we have a wide range of
Risen solar panels
Risen solar panels for large-scale distribution, guaranteeing a high quality product for our customers, that is resistant to the wear and tear and that provides maximum performance over a long period of time. We have a selection of Risen solar panels with
with different maximum output levels
(Wp), ranging from 400 Wp to 700 Wp. If you are interested, please
contact us
and ask for an obligation-free quote.
We are specialised in the supply of solar panels and inverters that guarantee the best possible performance. Source:
Official Risen Energy website
.